Patience Dombin spoke with some residents of Jos on the increasing wave of crime in parts of the city.  
Residence of Jos, the Plateau state capital are worried over the increasing criminal activities in the tin city.
Many parts of the city are plagued by a wide range of criminality , ranging from ritual killings, snatching of personal belongings from individuals, particularly mobile phones, car theft, armed robbery, ransom-driven kidnappings and cultism.
The perpetrators of these heinous crimes are mostly youths between the ages of 18 and 30.
The dark spots to which these crimes are often committed include; Kabong, Tudun wada, Angwan rukuba, Rukuba road, Bauchi road, Farin- Gada- Down base, Tudun Wada, Anglo-Jos, Dadin Kowa, Bukuru, Zaria road, among several other areas within the metropolis.
Recently, the city made the headlines following upsurge in ritual killings.
The gruesome murders of Miss Plangnan Solomon and Miss Jennifer Anthony attracted public outcry and wide condemnation among residents.
Their vital organs were removed by their killers and their corpses were dumped.
The perpetrators usually lure the girls with money only to kill them for ritual purposes.
The most heartless of these criminals the "Yahoo Boy" who were responsible for the killing of Plangnan and Jenifer who were lured and killed by their boy friends.
The Yahoo Boys specialised in various types of cybercrime.
Many of them are either undergraduates, graduates or college dropouts whose distinct lifestyles of fast cars, wealth and ostentation is the envy of many of their age mates.
Yahoo Boys are not limited by geography, the internet is their home and their victims are as diverse as there are naive and people ready to fall for get-rich-quick scams.
Some of them have resorted to the use of traditional charms and mystical powers to scam their potential victims.
Besides Yahoo Boys, phone snatching has become the order of the day in Jos.
Residents no longer walk freely on the streets with their phones for fear of these criminals
A resident of Kabong, who did not want his name in print said the hoodlums have become so daring that they operate not only in the night, but in broad daylight.
"In the past, armed robbers used to operate in the night but today these boys operate both in the day and night.
"We are living in fears because of the bad boys around. They snatch phones, pick pockets and break shops to steal valuables.
"Normally, we close late but, due to fear we closed our shop by 7pm, she said.
Nanko Bonkat was one of the unfortunate victims of car thieves.
Her car was stolen at her children's school when she attended the school's Father Christmas funfair in December 2021.
"I parked at the car park, in the school premises for just one and a half hours, when I came to pick their lunch box,I found my car missing", she recalled.
Also, commenting on the rising wave of crime, Isaiah Bulus, a resident of Tudun Wada area of the city said, many of the residents live in perpetual fear.
"We hardly sleep, even when we do, we often wake up with incidences of hoodlums breaking into houses and shops," he said.
Kidnapping for ransom has also been on the increase in the city.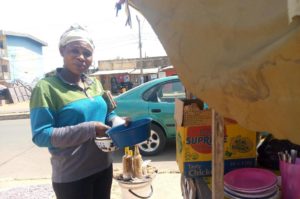 Shim Goma a resident of Farin-Gada-Down base, said crime is a major set back to the development of the city.
He said many able bodied youth who don't want to do anything to get be gainfully employed were engaged kidnapping for ransom.
Goma said, Down-base community has found itself in a very difficult and challenging situation since last year.
She said, "In a span of three weeks, five people were kidnapped in my area last year"
Also speaking on the security situation in the city, a resident of Rukuba Road, Esther Ayo expressed concern about, the deadly activities of cultist in the area.
She said residents cannot move out in the night without being attacked by cultists.
"Last month at about 9pm, I heard gun shots, when I peeped, I saw boys coming out of my neighbour's house.
"We rushed out and discovered, Micheal Aku, a 20 year old boy lying dead in a pull of blood. He was shot infront of his parents" she said.
Also speaking, a lecturer with the University of Jos and resident of Bauchi road, Dr. Francis Leman said the high rate of crime is as a result of the hardship People were facing.
He noted that with the prices of goods rising on a daily basis, many now struggle to meet their economic and social needs.
He said the moral decadence in the society has worsen the situation.
According to him, parents no longer care to question their children about their life style even when it is obvious that they are into crime.
Mr Peter Amine, a journalist with the the News Agency of Nigeria (NAN) and Secretary, Nigeria Union of Journalist (NUJ), Plateau State council called on the government to do the needful by safeguarding the lives and property of citizen.


In his reaction, the spokesman of the Plateau state police command, Uba Ogaba
said, the command was doing everything possible to address the security situation.
He said the command had adopted modalities to ensure that Plateau is safe.
According to him, patrol teams had been deployed to the communities to intensified surveillance.
"We will make Plateau a hot place for these criminals till they relocate", he stressed .
Ogaba, however called on residence of the city to be security conscious and report any suspicious movement to security operatives for prompt response.