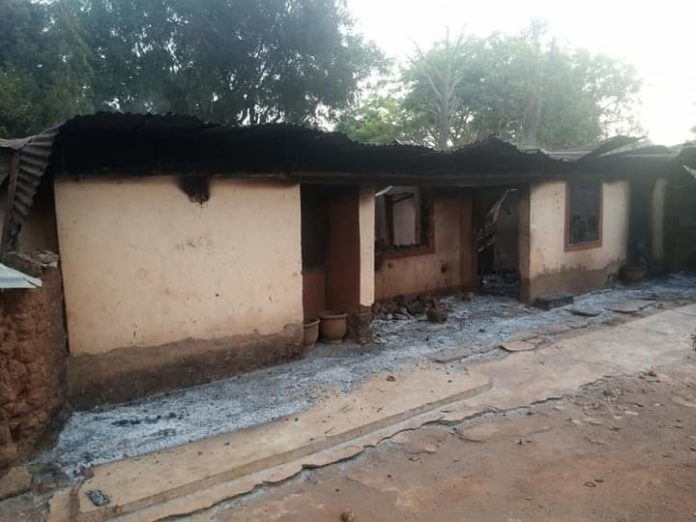 No fewer than 23 people have been reportedly killed by terrorists in Mararaban Agban, Agban and Adan communities in Kaura Local Government Area of Kaduna state.
Several people were also said to have been injured while about 70 houses were reportedly burnt by the invading terrorists. An eye witnessed who pleaded anonymity said in a telephone interview that the attacks took place at about 7pm on Sunday when the three communities were surrounded by the criminals.
According to him the terrorists were in larger numbers and were well armed adding that they divided themselves into three groups.
He said each group was stationed around the three villages where they mounted their machines guns.
"They came around 7pm and and they divided themselves into three groups. One group attacked Mararaban Agban, the second group attacked Agban and the third group attacked Adan.
"They mounted their machine guns and started unleashing mayhem the villagers", he said.
He said he visited the affect villages on Monday morning and counted 20 corpses, while while three others died in the hospital following injuries they sustained from gunshots.
"I just visited the three affected communities this morning- Mararaban Agban, Agban and Adan. They are neighbouring villages.
"I can say that I counted 23 corpses including three of the victims who died in the hospital of wounds from gunshots.
"I also counted about 70 houses that were burnt.
"In Adan, the only structures that were left standing, are the Church, the primary school and about two uncompleted buildings, the entire village was razed.
"In Agban half of the houses were burnt. In Mararaban Agban, some few houses were burnt.
"One woman was macheted, all in all, I counted 14 corpses in Mararaban Agban, three of the corpses were still on fire.
In Agban I saw six dead bodies including a woman and her three children.
"At Adan I did not see dead body, but that is not to say no life was lost because I didn't enter the bushes around the community", he said.
He said last week, the terrorists attempted to attack the communities on two occasions, but were repelled.
"Yesterday (Sunday), they came in their numbers, well armed, well coordinated and wrecked havoc on the villagers," he said.
When contacted, Mohammed Jalige, spokesman of the Kaduna state police command said, he was yet to receive reports of the incident.
He however promised to make his findings and get back. He was yet to get back at the time of this report.
Some of the houses burnt.