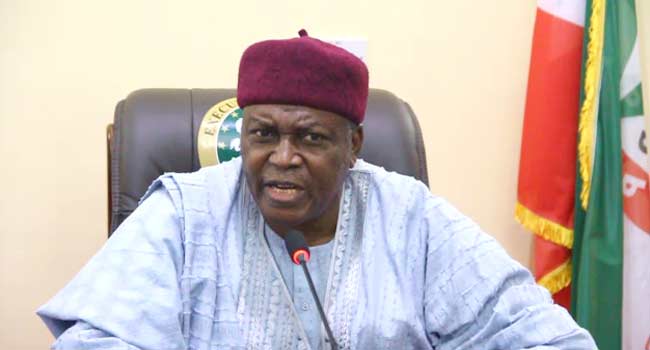 The Reformed Church of Christ for Nations (RCCN) in Taraba state, have written to the state governor, Darius Ishaku about the deplorable security situation in communities in Takum Local Government Area and Ussa/Yangtu Special Development Area of the state.
In the letter date July 13, 2022, the church lamented the incessant invasion of communities, killings and wanton destruction of property by rampaging terrorists.
The letter which was signed by Rev. Ukwetari Urutsi, RCCN Assistant General Secretary, enumerated the mindless attacks on many communities which had claimed over 300 lives with many houses and churches destroyed.
The church called on the governor to take urgent steps to stop the mindless killings and destructions.
It also called on the state government to come to the aid of thousands of people that have been displaced following the destruction of their homes.
The letter reads:
Your Excellency sir, we felt it necessary to write and acquaint you with some happenings around our area which have affected us immensely, particularly the recurrent and incessant attacks on the innocent Christian communities predominantly members of
Reformed Church of Christ for Nations, (RCCN).
Sometimes early this year, a Fulani man killed a man in Kpambo Yashe, the man was
buried. Sometimes last Month, the Fulani Militia invaded a community called Kwentwen at the early hour of the day, between 4:30 and 5a.m which was Easter Sunday, chanting "Allah is great" and started slaughtering people who were armless and unprepared. About 30 people were massacred, 15 in Kpashe community, 20 in Semta Community.
In Kwari, seven people were killed, 10 in Basang.
They also invaded Tati and killed 20 people and went to Tswan land two communities and killed 10 people.
Not only did they kill people, they also destroyed houses, properties and rendered the surviving homeless.
It is disheartening to note that Takum and Ussa LGA, Yangto Special Development area
has grappled with various armed groups ranging from Fulani herdsmen destroying crops, killing hundreds of people and other Militia unleashing terror on the communities, destroying Churches, Houses and properties worth millions of naira.
On the 10th of May, 2022 in the early hours of the day, a resurgence occurred with the invasion of a vast troop suspected to be bandits with sophisticated weapons, the attackers came on motorbikes and killed a Mobile Police at a Check-point, killed over 40 people in Tati area.
Because of the emergence of such fierce attacks, the military were alerted and the C.O. (Commanding Officer) of Battalion 93 in Takum, E.S. Okore, a Lieutenant Colonel, mobilized to protect the Community against these terrorists.
The C.O. and other six soldiers were beheaded as they were ambushed by these terrorists.
Aside the aforementioned communities, Kwenboi, Gangum two, Tati Kumbo and Tati area, Fawen, kashiten and Muji all in Takum area, were also attacked.
Other areas include Rikwentumum, Rimamchika, Ripaechin, Kijwaen, kwambai, Jenuwa Gida, Nyicwu Acha Nyim, Nzwirya and Ucha.
In these attacks, hundreds of People died, Churches within these areas, Houses and properties worth millions of naira were destroyed. People were displaced in their thousands.
The following are some of the death toll, 41 people were identified in the affected communities and five of those who suffered various degrees of injuries resulting from the attacks:
(A). FAWEN DISTRICT
1. Rimamdeyati Wassa
2. Jacob Aboki
3. Mbasinyan Yahanna
4. Andeze Galadima
5. Bulus Usman
6. Philip Bala
7. Emmanuel Rimamnyang
8. Sunday Sabo
9. Danasabe Mbatawum
10. Ishaya Asinde
(B). PROPERTIES DESTROYED IN THIS DISTRICT AREA:
1. Rikwentumum Church
2. Pastor's Residence- Rikwentumum
3. Pastor's Residence – Rikwencwen
4. RCCN Fawen- Church Houses and properties
5. RCCN Fawen Pharse1 – Church properties
6. RCCN Rikwenboi – burning of Church Houses, properties and Foodstuff
7. RCCN Ukpah – Church, properties and Foodstuff
8. Miracle Joel – Houses, properties, foodstuff, crops
9. Abaku Peter – Houses, foodstuff, Cements
10. Danlami Musa – Life, Foodstuff and properties
11. Rimamtanung Usman – Houses, properties, foodstuff, Crops 12. Usman Andekumbeb Biki – Houses
13. Bulus Usman – Houses, properties, foodstuff and crops
14. Monday James – Houses, properties and crops
15. Thomas Titus – foodstuff
16. Josiah Ajiya – properties and foodstuff
17. Apwenum Yaro – Foodstuff
18. Tirkah Jerome Andrew – Houses, properties and Foodstuff.
19. Apuyen Yerima Ephriam houses, properties and Foodstuff.
20. Danladi Rimamkyaten – Houses, Foodstuff and properties
21. Tanimu Ahmudu – Houses and Foodstuff
22. Danlami Boyi – Motorcycle
23. Daniel Yusuf – Shops and properties
(C) DEATH IN RIMAMCHIRIKA DISTRICT
1. Solomon Andes cap-Gangum2–LCC
2. EpraimGemba–kijwaen–LCC
3. Polycarp Garba – Gangum – LCC
4. James Dutse – Gangum – LCC
5. KurutsiYakubu–Ripaechin–LCC
6. Danlami Musa
(D). INJURED PEOPLE
1. Rimamtari Gambo–Kijwaen–LCC
2. Andenyangtso Abaji – Kijwaen – LCC
3. DanielAndepura–Gangum–LCC
4. Hosea Danladi–Gangum–LCC
5. SolomonAndesap–Gangum-LCC

(E). DEATH IN RIMAMTAWE DISTRICT
1. Sohktsi Ajiya–TrinityKwambai–LCC
2. ElkanahIsmaluApakun–SapitaKwambai–LCC
3. Samila Harunah – Kwambai – Lcc

(F).GIDAN ALLAH DISTRICT
1. Iranyang Garba – Jenuwa Gida – LCC
2. Mr Iranyang Garba –
(G) RIMAMKIRTEN DISTRICT
1. NathanKarma–Nyicwu–LCC
2. Nurimam Tensiteb – Acha Nyim – Lcc
3. Ifraimu Samuel – Acha Nyim – Lcc
4. Irinarimam Christopher – Acha Nyim – LCC
5. ChristopherAhmedu
6. Rimamtso Magai
7. Barnabas Danladi
8. FilibusDanladi
9. Samuel Rishinkus
10. Rimamskep Asumteba
11. Mary Bature
12. Mishack Bature
13. Andekuba Enock
14. Moses Christopher
15. Jonathan Iranyang – Sapita – LCC
16. Kurutsi Yusufu – Kwambai – LCC
(H). KPAMBO DISTRICT
1. SundayMaigida
LISSAM 2 – Asik
1. Rikwen Shamaki
(J). PASTORS THAT DIED
1. Rev. Joshua Shamaki – Acha Nyim – LCC
2. ElijahYakubu"
Following the above mentioned scenarios and the fact that it is on the increase, as I write, on Thursday 7th July, Tati Market was attacked. Two people lost their lives, one was killed in Muji, three were injured.
Six people were killed in Nzwirya.
On Friday 8th, one person sustained injury in Ucha while two people were killed in Muji.
Our communities are in dire need of security forces since the terrorist attacks are persistent across these communities.
The situation is getting from bad to worse. We are crying out to your leadership as the governor, to come to our aid by providing enough security in our communities to tackle incessant attacks and wanton destruction of lives and property.
We are not safe, the terrorists set ambushes everywhere, attacking and killing our people.
Secondly, we are requesting your office, the National Emergency Management Agency (NEMA), Security agents and spirited individuals to send relief materials to help millions of our people who have been displaced and have relocated to neighbouring villages, to alleviate their suffering.
The families of those who lost their dear ones to these attacks should be supported by helping their wives and children.
I hope our cry will be promptly giving attention. Thanks for your anticipated response sir.
Yours in the Lord,
Rev. Ukwetari Urutsi,
RCCN Assistant General Secretary.