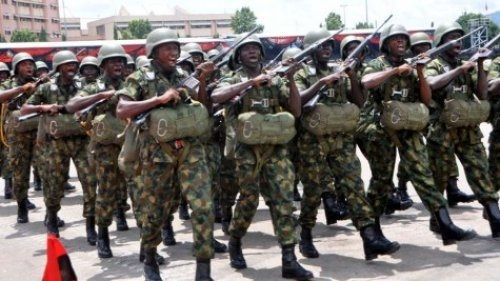 The Nigerian Army has denied allegations by residents of Mbator in Shangev-Tiev of Konshisha Local Government Area of Benue State that at least 70 innocent persons were killed during an invasion by soldiers.
In a statement on Friday the army said the allegations were not true.
A group known as Shangev-Tiev Assembly (STA), had at a conference on Friday in Makurdi, the state capital, also alleged that about 15 other neighbouring communities were razed.
Spokesman of the group, Elder Tyoh Jude, had claimed that "The army has so far razed and demolished farms, schools, hospitals and residences of Bonta, Tse-Jembe, Tse-Anyom, Gbinde, Mbaakpur, Aku, Agidi, Gungul, Adoka, Guleya, Awajir, Shiliki, Achoho and Ullam in Gwer Local Government Area, and are still planning to do same to other neighbouring towns within Konshisha LGA.
"Our unarmed people are being killed intentionally in large numbers by armed personnel of the Nigerian Army.
He alleged that, "Presently, over 70 persons are reported dead and more than 100 people are missing, mostly women, children and the elderly and hundreds of thousands displaced with its attendant humanitarian consequences."
However, the spokesman of the Nigerian army, Brig.-Gen Mohammed Yerima, described the allegations as laughable and incomprehensible.
Reacting to the allegations in an interview on Friday, he said the residents are the ones killing troops and carting away their rifles, stressing that the army will not fold their arms.
"How can you comprehend this claim? If they kill 70 people the whole Nigeria will not know? That's not true. We have not killed anybody. We are only searching for those who killed 11 of our troops.
"May be they don't like the way we're searching but that's their problem. We want to fish out those perpetrators," the army spokesman said.