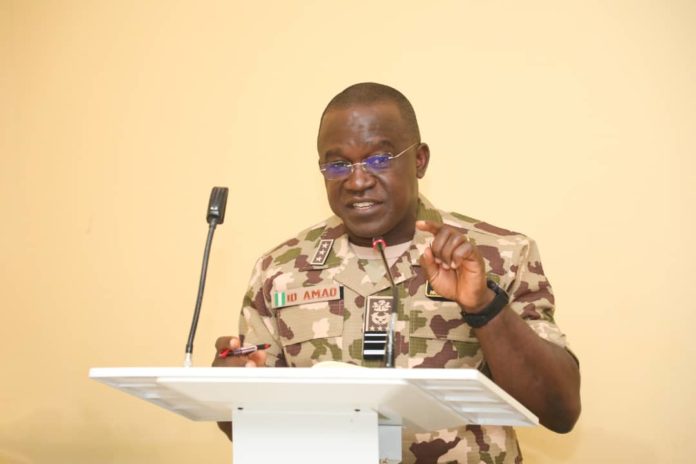 The Chief of Air Staff (CAS), Air Marshal Oladayo Amao has charged operational commanders in the Northeast and northwest to be resolute and sustain the current onslaught against remnants of terrorists causing mayhem, especially in the Northern part of the country.
A statement by the spokesman of the Nigerian Airforce (NAF), Air Commodore Edward Gabkwet, said the CAS stated this on Thursday in Katsina at a meeting with operational commanders.
The statement said, Amao commended the commanders and their men for their bravery, doggedness and loyalty in these endeavours.
Gabkwet said the meeting afforded the CAS and the field commanders the opportunity to review and re-appraise ongoing joint operations.
According to him, the meeting was also aimed at re-strategizing towards a more operationally effective NAF which is saddled with the expeditious conclusion of the current scourge of insecurity in the country.
He said the CAS, "reminded the commanders to take cognizance of the dynamism and complexities of the ever-changing security environment while adopting the best strategies required to promote NAF's retention of credible air power capability to prosecute its operations."
The statement said Amao expressed his delight and satisfaction with the current operational momentum deployed against terrorists and insurgents in the Northeast and Northwest which has led to the elimination of several key terrorists' leaders and their cohorts.
The CAS commended the commanders and their men for their bravery, doggedness and loyalty in these endeavours.
The statement quoted the CAS saying, "The deployment of air power against terrorists and insurgents has changed the tides of the ongoing operations in the entire northern Nigeria thereby giving most Nigerians some respite and confidence in the abilities of the Armed Forces of Nigeria.
"We mustn't, however, be complacent believing that the enemy has been defeated. Instead, we must continue to seize the initiative while dictating the pace of the operations."
Amo further stated that the new platforms being expected into the inventory of the NAF in the first quarter of 2023 and beyond would no doubt add impetus to ongoing operations. Gabkwet said the CAS, "admonished the operational commanders to continue to remain focused and show no mercy while maintaining the tempo of the operations.
"Air Marshal Amao further urged them to sustain professionalism and responsiveness in the discharge of their constitutional roles while also taking extra measures to ensure that civilians are protected."
The statement said Amao
assured that he will continue to ensure that you get all that the commanders require to effectively execute the operations.
"Let me also use this medium to reassure you of the Federal Government's commitment to your welfare and well being," he said.
The CAS was accompanied to the meeting by the Chief of Training and Operations, Air Vice Marshal Aliyu Bello, Chief of Logistics, Air Vice Marshal Olatokunbo Adesanya, Chief of Air Intelligence, Air Vice Marshal Nkem Aguiyi and some directors from NAF headquarters, Abuja.