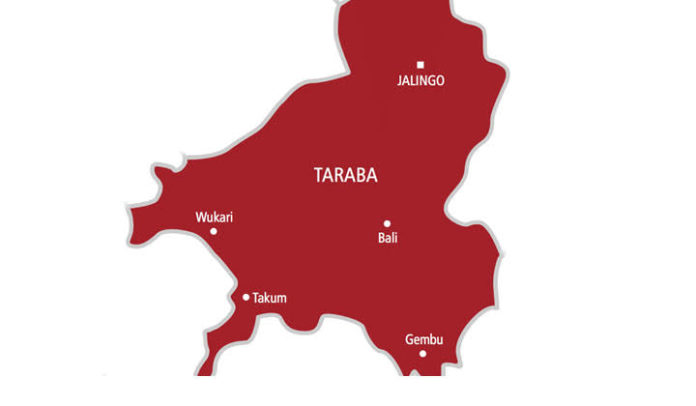 Many people have been reportedly killed by invading herdsmen in communities in Ussa Local Government Area of Taraba state.
The attacks were said to started on April 1. The herdsmen were said to be killing and abducting the Kuteb natives as well as destroying their farms.
Many communities were said to have been razed down by the rampaging herdsmen.
A source in Lisam, headquarters of Ussa LGA, said hundreds of people have fled their homes for their dear lives.
Reports quoted the National President of Kutep Development Association, Emmanuel Ukwen, saying that many people were killed.
Ukwen said several villages had been deserted as the attacks rages on.
He added that foodstuffs, property and many houses were burnt by the herdsmen.
Angry Kuteb youths were said to have burnt down the palace of the paramount ruler of Lisam, Kwe Ando Madugu, who was accused of allegedly taking side with Fulani herdsmen.
Also the chairman of Ussa LG, Abershi Musa, was said to have resigned from his position following the alleged failure of the Taraba state government to take immediate action to stop the killings.
The headsmen were said to have launched the attacks along Lissam-Kwesati road and Fikyu.
Meanwhile the Chief of Kpambo Chiefdom in Ussa LGA, Kwe Andekin Musa, has appealed to the government to come to the rescue of his people.
The traditional ruler lamented that the people of the area were being killed on a daily basis by fulani militia.
He noted that despite the peace accord between the fulani and Kuteb, the fulanis were still on rampage advancing towards the directions of his people which is uncalled for.
"The fulanis who returned back after the peace accord did not come back with their wives. We were thinking they were back for peace.
"Unfortunately suddenly, the herdsmen started destroying most of our farm, economic trees, eat up our food , pulled down our corn for their cows to eat", the traditional ruler said.
He said the presence of security personnel in the affected areas was not yielding any desired results and called for more deployment of security personnel.
The Taraba state government and the police command could not be reached for reactions.