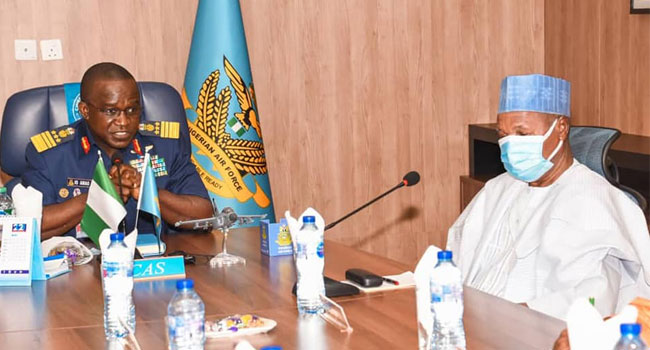 The governor of Katsina State, Aminu Masari has lamented that despite several efforts by the his administration to engage bandits, the moves have yielded little or no result as each group operates independently.  Speaking when he paid a courtesy call on the Chief of Air Staff (CAS), Air Marshal Oladayo Amao, at NAF Headquarters, on Friday in Abuja, Masari said the security situation in his state was compounded by the vast land and open border with Niger Republic as well as the huge ungovernable spaces in the state which facilitate freedom of movement for the bandits.
He said the activities of the miscreants, occasioned by wanton destruction of lives and property, kidnapping, rape and arson, has greatly affected the progress of the state.
He added that it was worrisome that the bandits attack the same locality they reside in and people they have lived with for years.
The governor who noted that governance can only be felt when peace and security is achieved, said all efforts must be made to root out banditry to restore sanity and normalcy in the entire North west.
He commended the NAF for itsefforts in the fight against banditry and other forms of criminality in state and other states in the Northwest facing security challenges.
He said the on-going operations in the Northeast by NAF and other security agencies have significantly curtailed the activities of bandits and limited their scope of operation.
The governor also expressed delight over the level of synergy among the various security agencies, pointing out that the new level of cooperation has started yielding the requisite outcome with some level of normalcy being felt in some areas of the state.
Masari called on Nigerians to support the military as they work round the clock to ensure the protection of lives and property.
Responding, the CAS thanked the governor for his support to the NAF and other security agencies in Katsina State.
Amao said the mandate given the service chiefs by President Muhammadu Buhari was clear and unambiguous- to deal decisively with all bandits and other criminal elements in the country.
He said there will be no hiding place for the bandits in the next few months with the induction of new platforms including the Super Tucanos.
Commenting on the ongoing NAF operational projects in Katsina state, Amao assured that when completed, they would enhance the operational capabilities and reach of NAF platforms in the state.