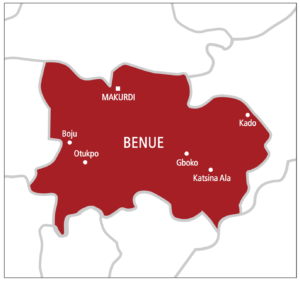 At least 36 people have been killed in an attack by gunmen on Gbeji community in Ukum Local Government Area of Benue state.
Terver Akase, Senior Special Adviser to Governor Samuel Ortom on media and publicity, confirmed this in a statement on Friday.
The were said to have invaded the community in the early hours of Wednesday, killing residents of the community, including a police officer.
Akase said 18 more bodies were recovered on Friday including the corpse of yet another police officer
He said governor Ortom, paid a visit to the community alongside other government officials, as well as Gabriel Suswam, the senator representing Benue North-East Senatorial District and Titus Uba, speaker of the state house of assembly.
Addressing survivors and victims' families during the visit, Ortom, who was represented by Anthony Ijohor, the secretary to the state government, said with the current security situation, the federal government should approve licence to procure "sophisticated" weapons for the state's security outfit.
"We are standing on our request for the federal government to give us a licence for our Volunteer Guards to bear AK-47 and other sophisticated weapons," he said.
"The security agencies have been overstretched. That being the case, our people have to defend themselves."
Ortom also urged youths to protect their lands, adding that the state government would support the affected persons.
On his part, Suswam accused the federal government of failure to provide security for residents.
"This is totally unacceptable by all standards. It is a clear indication that the federal government has failed in protection of lives and property of the people that they swore to protect," he said.
"What this means in effect is that power has been transferred to non-state actors. They are totally in charge now and come to kill people at will and go freely and no person has ever been arrested.
"How can such a government say that it is a government? We don't have a government, because when you swear to either the Bible or the Quran that you will protect lives and property of the people, and the people have been consistently killed and no decisive action has been taken; nothing has been done; no person has been arrested, it means that we don't have a government.".
While commending security operatives for their efforts, Suswam said there is a need for the deployment of more operatives to support the conventional security agencies.