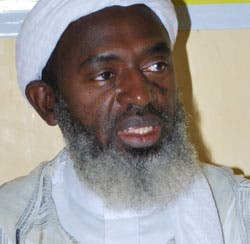 Prominent Islamic cleric, Sheikh Ahmad Gumi, is said to be currently meeting with former
President Olusegun Obasanjo in Abeokuta, the Ogun state capital, according to reports by TheCable.
The online news platform said Obasanjo's spokesman, Kehinde Akinyemi,
confirmed the meeting.
"It is not just the two of them present; it is stakeholders meeting holding at his residence here in Abeokuta", TheCable quoted Akinyemi.
The meeting may be connected to the security challenges facing the country.
The Islamic cleric has been meeting with various stakeholders as part of efforts to tackle the security issues.
Gumi had, recently visited some of the bandits in their forests in Kaduna, Zamfara (his home state) and Niger states.
He has been advocating that
the federal government grant them amnesty, following his visits to the criminals.
The bandits have been terrorising people on the highways and invading communities, killing and abducting people for ransom.
Currently the 39 abducted students of the Federal College of Forestry Mechanization, Afaka, Kaduna who were kidnapped in the school on March 11, 2021, are still in captivity.
Gumi has repeatedly said the bandits should not be castigated and referred to as criminals, arguing that they are not worst than the Niger Delta militants who were agitating for environmental degradation and the poor condition of oil producing communities in the Niger Delta region.
The bandits terrorising communities across the country, are said to be fulani herdmen, are not known to be advocating for any cause.
Many Nigerians are opposed to granting amnesty to the bandits who continued to unleash terror and impoverishing people with their criminal activities.