The Chief Justice of Nigeria (CJN), Ibrahim Muhammad, has described the retiring Justice of the Supreme Court, Ejembi Eko as "judicial officer, who has excelled in his career and in the development of the nation and humanity".
The CJN stated this at the valedictory session held at the Supreme Court on Monday in Abuja in honour of Eko, who retired from service having attained the mandatory retirement age of 70 years.
The CJN said, Eko's proficiency in the dispensation of justice, which is firmly rooted in his mastery of law, stands him out as a man of dignity and distinction.
He said, In everything Eko does, "he endeavours to leave a mark that hoists the banner of integrity and honesty".
Eko was born on May 23, 1952. He attended Methodist Primary School, Ugboju-lcho, Benue state, from 1958 to 1962 and later enrolled in Native Authority Primary School, Ugbokpo, Apa LGA, also in Benue state, where he obtained  his First School Leaving Certificate in 1965.
After his primary education, he attended Wesley High School, Otukpo, from 1966 to 1970, where he had his West African School Certificate.
He was at Government College, Keffi, in 1972, where he obtained his Higher School Certificate.
Eko was admitted at the University of Ife (Obafemi Awolowo University in 1973 were he obtained a degree in law.
He later proceeded to the Nigerian Law School and was called to the Nigerian Bar in 1977.
He was appointed as the first director of civil litigation, Benue state ministry of justice, in April 1987 and within six months, he was elevated to the office of solicitor-general and permanent secretary in the same ministry on October 1, 1987.
He became a judge of the Benue state high court on February 9, 1989.
In February 15, 2008, he was sworn into the court of appeal.
Eight years, he was elevated to the supreme court bench on November 7, 2016.
In his remarks during the valedictory  session, Eko called on called on the Independent Corrupt Practices and Other Related Offences Commission (ICPC) to probe the management of budgetary allocations to the judiciary.
He also alleged that in many jurisdictions, chief registrars allow themselves "to be directed willy-nilly in the vandalisation of the judiciary budget".
He said, despite an increase in the budgetary allocation of the judiciary, it was perplexing the welfare of judges remained poor.
Eko maintained that providing access for a probe of the financial records the judiciary would not jeopardise its independence.
He said: "My lords, the heads of court in the federation have enormous budgetary resources from which they can improve the welfare of serving judges.
"As it is presently, and as the director of budget in the federal ministry of finance disclosed recently at the memorial lecture in honour of the late Abdullahi Ibrahim, SAN, it is baffling that the welfare of judges remains in abject state, in spite of the increase of the budgetary allocation to the judiciary under this regime. Why?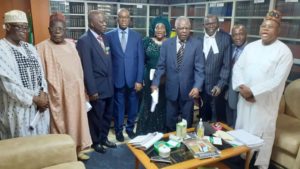 "The said director of budget suggested that the panacea to the often touted underfunding of the judiciary would be for the judiciary to allow its books to be opened by the relevant authorities.
"This clearly is an allusion, albeit an indictment, pointing to the internal fraud attending to the management of the budgetary resources of the judiciary.
"Nothing stops the office of the auditor-general of the federation, the ICPC and other investigatory agencies from opening the books of the judiciary to expose the corruption in the management of their budgetary resources.
"That does not compromise the independence of the judiciary. Rather, it promotes accountability.
"In most jurisdictions, the chief registrars regard themselves as direct subordinates of even the spouses of heads of court and allow themselves to be directed willy-nilly in the vandalisation of the judiciary budget."
The retired Justice also accused the National Judicial Council (NJC) for applying double standards in the discipline of erring judges.
"With all deference to the NJC, the punishment fell short of the expectation of the public that these bad eggs should have been broken or smashed and/or exterminated to serve as a deterrence".
"When the punishment for an outstandingly bad and outrageous conduct is far too lenient, it encourages impunity and/or repeat by others of errant or atrocious misconduct."