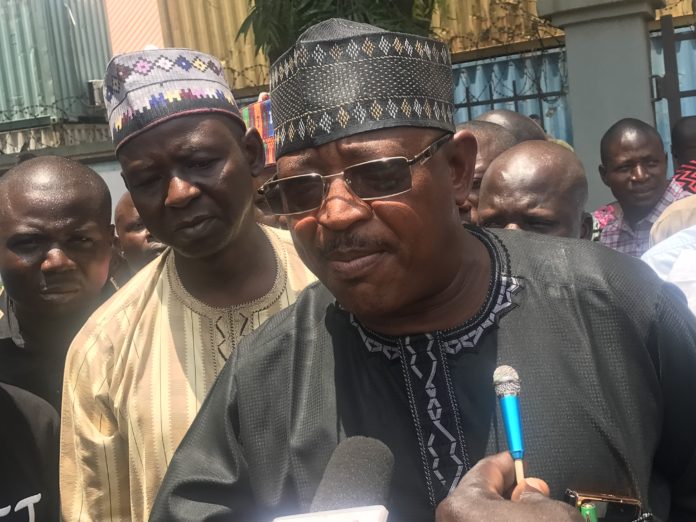 A federal commissioner of the National Population Commission (NCP) and a chieftain of the All Progressives Congress (APC), Dr. Abdulmalik Durunguwa, has applauded Kaduna state for proving that free, fair and credible elections are possible with electronic voting.
Durunguwa spoke in an interview with journalists in Kaduna shortly after he led APC stakeholders from Kachia to the headquarters of the Kaduna State Independent Electoral Commission ( KADSIECOM) to complain on the just concluded council polls in the area.
Durunguwa urged other states to emulate Kaduna so as to ensure peaceful elections and deepen democracy.
He said, "Using electronic voting machines is the best thing that will ever happened to Nigeria.
"Everybody should learn from Kaduna state and make sure that elections are done peacefully because what is going on right now is a plus to democracy in Kaduna state".
He explained that they were at KADSIECOM to express concerns about the elections in Kachia where many people did not vote due to malfunctioning of of electronic voting machines.
He said although the election in Kachia LGA was declared inconclusive, it was imperative to meet with the leadership of KADSIECOM to inform them that elections did not hold in many polling units in the area as a result of malfunctioning machines.
"I am from Kachia and we have come to the Kaduna State Independent Electoral Commission to express our feelings about the elections that took place in Kachia LGA on September 4…
"We want to say categorically that as far as we are concerned, we commend the commission for conducting a hitch free local government elections in Kaduna state, but unfortunately, in Kachia LGA there are about two major wards and some other polling units in Kachia that all machines malfunctioned and refused to work on election day.
"So as far as we are concerned if you consider a total number of about 36 polling units and the total votes in those polling units is enough to truncate any kind of position that is being announced even though the election was declared inconclusive", Durunguwa said.
He said although the KADSIECOM is of view that election would be conducted in Sabon Sarki ward with 11 polling units, elections did not hold in Kachia Urban which have nine polling units and has more votes than Sabon Sarki ward.
"We are not fighting any political party, what we are saying is that citizens of the affected areas in Kachia should be allowed to excercise their funamental human rights to vote.
"They cannot be disenfranchised, let SIECOM go and conduct elections in these polling units.
"Whatever the results from these polling units as far as we are concerned, we are satisfied with it.
"Even if PDP wins, we don't mind but let elections be conducted in Kachia, let all the votes from these polling units be counted so that the people's voice would be heard", he said.
He maintained that if elections are conducted in the affected polling units, the APC will win because the party had already won 12 wards.
"Right now out of the 12 wards APC has already won six wards. We have the believe that if elections are done without any rancour, and with the machines, working, APC is going to win these remaining polling units", he said.
While commending SIECOM for conducting credible elections, Durunguwa said the malfunctioning machines were an indication that no human activity can be 100 per cent perfect.
"As far as I am concerned there is nothing on earth that does not have an issue.
"Of course using the electronic voting machines have reduced election malpractice that has been going on.
"We are with the government and the government is just and fair. We know the chairperson of SIECOM is a woman of integrity", he said.