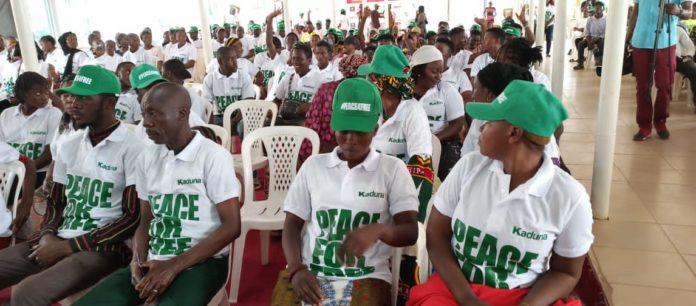 The Peace for Free Initiative (PFI), a civil society organisation said it is determined to promote peace and unity among Nigerians. Speaking while declaring opened  its  lecture series on peace  on Saturday in Kaduna, founder of the PFI, Chris Oge, said  the campaign for peace was a crucial national event designed for all Nigerians to strengthen their "faith in democracy and its promises at this point in our democratic journey."
In an interview shortly after the event, Oge said the campaign was as a result of the fallout of the 2023 elections.
He said, "As we all know, a lot of people claimed that the process was marred with a lot of irregularities and all that. "So, as a civil society organisation, we quickly moved in to engage the people, especially youth, and ask them to eschew violence and toll the part of peace.
"This is a national peace campaign. We started the campaign in Asaba, Delta State, Lagos in Lagos State, Abakalii, Ebonyi State, Maiduguri, Borno State. We are now in Kaduna from where we will be moving to Jos, Plateau state."
He added that, "no matter what, there is always a way to address our differences whether through dialogue or judicial process.
"So, we need to trust the process because we are one. Peace is not the absence of conflict.
"What that means is that we should have in mind that violence cannot achieve anything tangible for us. It can only disrupt a process we have been learning since we returned to democracy in 1999.
"So, we need to learn it with due diligence to ensure we have a good democracy at the end of the day".
According to him, the 2023 general elections  generated alot of attention, especially, from Nigerian youths whose quest for good governance and political participation had increased in recent times.
He called on Nigerians, particularly, the youths, to be  law abiding, remain faithful and committed to the democratic process".
He maintained that, democracy cannot thrive without peace and unity in the country.
Guest lecturer at the occasion, Prof. Anthony Igyuve of Nasarawa State University, Keffi, appealed to Nigerians to put the elections behind them and join hands to build a peaceful and prosperous nation.
"We have targeted young persons in this peace campaign series because they are the tools some politicians are using to disrupt societal peace.
"So, once they have the understanding of a peaceful atmosphere as peace ambassadors, then, those using them to cause violence will have no option but to use legal means to seek redress", he said.
The event was attended, mainly by the youths.