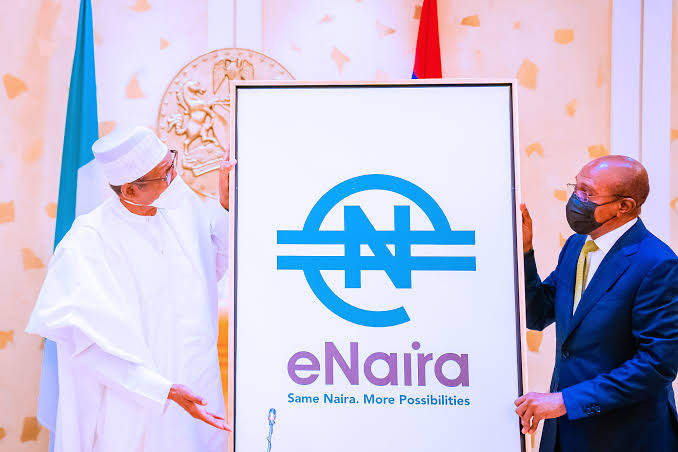 The Central Bank of Nigeria (CBN), has asked Nigerians to embrace the electronic currency, eNaira, as it is a legal tender representing the naira.
Mohammed Musa, a Deputy Director in the apex bank, stated this on Thursday in Kaduna at a sensitisation campaign of traders on the use of the electronic currency. He said the electronic version of the naira was introduced by the CBN to address challenges of using physical cash as well as enhance transactions with much ease.
Speaking in an interview with journalists shortly after a sensitisation meeting with traders at the Kawo and Central Market, Kaduna, Musa said, the time had come for Nigerians to key into the policy because of its numerous advantages .
"We are preaching the message of eNaira. eNaira is another representation of cash, "the same cash that we are used to is what eNaira is complimenting.
"It will address the well known issues associated with the use of cash, such as losing your money to robbers or fire incidents and so many other other ways.
"The CBN introduced it to address these kind of issues as well as enhance transactions in an easier and better way than the use of cash.
"That is the message we are trying to push to Nigerians, so that they will understand and take advantage of all the benefits", Musa said.
According to him, the CBN is partnering with agents to promote the use of the eNaira.
He said, "One of the companies that is here with us is a partner agent for the eNaira. We had a train the trainer session with them.
"They had over 60 agents that attended the training and we are going to have additional training sessions.
"These agents are going to go out to all the markets across the Kaduna state to sensitised people."
Musa said further that the National Orientation Agency (NOA), has also been engaged in the sensitisation campaign.
He said so far, there are over 10 million eNaira wallets, describing the development as encouraging.
"We have already engaged the National orientation agency in the sensitisation campaign,
but Nigeria is so large that relying on just one agency cannot really get the work done.
"We are working with NOA as well as expending to other channels to ensure that the work is done.
"We are very encouraged with what we have done so far. We have over 10 million eNaira wallets. It is a gradual process.
"We are also engaging government agency…A lot of them are working with us, they can channel their funds to eNaira wallets.
"We are engaging as many stakeholders as possible. The hope is that in no time, everybody will embrace eNaira", Musa said.
He also dismissed insinuations that the electronic was introduced for a particular class of Nigerians, stating that
it was designed to take care of every citizen regardless of the type of phone he or she uses including those without phones.
"We have different medium for eNaira. Whether you have Android phone or iPhone or 'torchlight phone' or you don't even have a phone, eNaira is there for you.
"We have different platforms that allows you to operate even offline. It is for every Nigerian.
When people see the benefits,
even salaries may be paid with eNaira", he said.