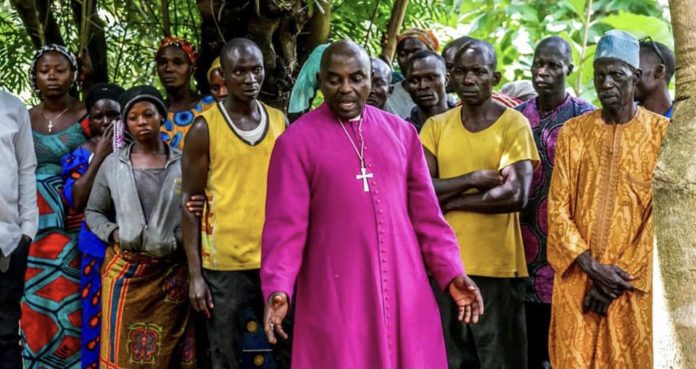 The Anglican Bishop of Zonkwa, Zangon Kataf Local Government Area of Kaduna state, Rev, Jacob Kwashi, has asked communities in the Southern part of Kaduna state to defend themselves against rampaging suspected fulani herdsmen terrorising them.
Kwashi who is also the Zangon Kataf Local Government chapter of the Christian Association of Nigeria (CAN), spoke at the funeral of nine of the 17 people who were killed on Saturday in an attack on Ma-Dooh village, Atyap Chiefdom by suspected fulani herdsmen.
In a video clip recorded during the burial of those killed and posted on the Facebook page of the Zonkwa Diocese- Anglican Communion, Kwashi condemned the persistent attacks, killings and destructions in Southern Kaduna communities.
He said the fulani herdsmen were hunting for people like rats to kill.
According to him, since the government has proven that it lacks the capacity to deal with the criminals, communities should device ways of protecting themselves.
Governor Aminu Masari of Katsina state, recently made similar calls when he asked communities in his state to
arm themselves against bandits terrorising them, saying it was morally wrong for people to submit meekly to the hoodlums without any attempt to defend themselves.
The CAN chairman lamented that almost on a daily basis people were being killed and their homes destroyed, without the culprits being arrested and brought to Justice by the government.
He said since all the peace efforts have failed to bring peace, communities must defend themselves with whatever weapons they can get.
Kwashi said: "Every day we are being killed like flies and when we talked people say we are lying.
"The government is not here to defend us. We have never seen any government that so desire in blood sucking like this government and when we talk people say that we are being biased…
"Which kind of government allowed people, it's own citizens to be killed everyday.
"Let the world know, lying here are nine corpses out of the 16 people killed.
"One that was taken to the hospital also died in the hospital.
"So we have loss 17 people in this village and when we talk the government will say that we are becoming bias, that we are supporting one political party
"Let the truth be said, let the whole world know, I stand here as chairman of Zangon Kataf Local government to cry on behalf of these families, to cry on behalf of the Christian community.
"For how long will the government of El- Rufai and the government of Buhari allow us to be killed like this? "We have come to realise how bias they (government) are, no security men are sent to protect our communities, but when you go to Zangon Kataf, there is presence of military check points all over. How many of our villages have presence of the military?
"They will call us for peace talk after killing us. After the peace talk they continue killing us.
"What is the peace talk all about? We want the world to know that everyday we are being killed.
"Every day our houses are being burnt and destroyed. Our farmlands are being destroyed.
"Everyday the Fulanis will bring their cows into our farms and nobody will talk. And they keep on telling lies that they are unknown gunmen, who are the unknown gunmen?
"Where did they get the gun that they are killing us everyday? The government knows them but they will not go after them.
"God will fight the battle on our behalf. We pray that God will bring an end to this evil government in the name of Jesus…
"I call on our people, whatever you can have to protect yourselves. Look for any kind of weapon that you can protect yourselves…
"I am not against anybody taking a weapon, defend yourselves when they come to kill you.
"I pray for the souls of these deceased and let them rest in peace.
"I pray that God will comfort those of us that have suffered losses. I pray that God will bring and end to this evil.
"I pray that every single person that has hand in this evil, may that evil consume that person.
"They hunt for us like rat. Nobody has the monopoly of violence. Every day people are being killed in Southern Kaduna and the entire Belt. "Whatever agenda of the evil people God will destroy their agenda…
"Let it be on record that we have told the whole world, that we have spoken the truth…
"We cannot go to our farms and we cannot sleep in our homes.
"The youths should take steps to protect communities because there is no government that can protect them. No government can protect us…