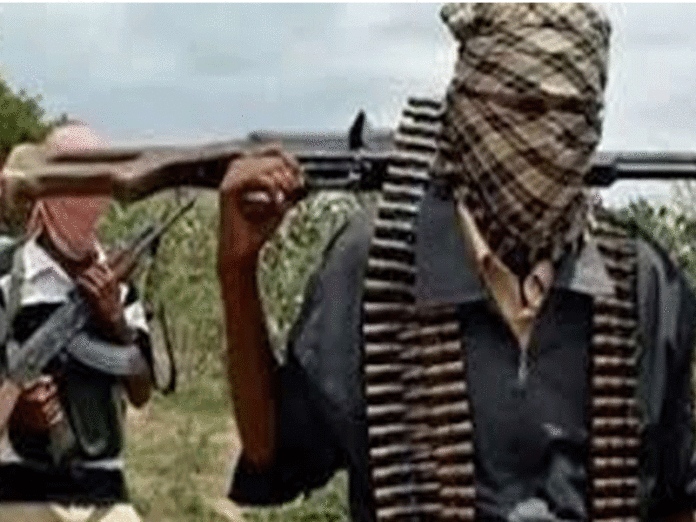 Two of the 66 members of Emmanuel Baptist Church, Kakau Daji, Chikun Local Government Area of Kaduna state, who were abducted in church on Sunday, October 31, 2021, have been killed by their captors.  Chairman of the Kaduna State chapter of the Christian Association of Nigeria (CAN), Rev. Joseph Hayab, disclosed this in a statement on Sunday.
Hayab said the bandits opened fire on five of their victims on Saturday November, November 6, 2021 and killed 2 of their victims while 3 others were seriously injured were taken to the hospital.
He expressed deep concern about the lives of the remaining 61 people who were still being held by the bandits.
The bandits had on Sunday October 31, 2021, invaded the church during worship, killing one person while 66 worshippers were abducted.
Chikun LGA is one of the areas where telecom services where shutdown to fight bandits and kidnappers.
Hayab said the lives of the victims were in danger and called for urgent intervention by government and security agencies.
"The lives of Kaduna abducted worshipers are in danger and require urgent intervention of government and security agencies", he said.
According to him, "The insecurity in Kaduna state has continued to grow beyond our imagination and is threatening the peace of the nation.
CAN Kaduna State is appealing to well meaning individuals, organisations, those in authority, especially the federal government and the international community to come to our rescue .
"The evil we are experiencing is more than what an ordinary person in Kaduna and Nigeria can handle.
"CAN is appealing to all Christians and people of our state to be united in fighting this evil and be watchful."
Reacting to the incident, the President of the Kaduna Baptist Conference, Rev.
Ishaya Jangado, condemned the incident, saying that the bandits killed their victims because the Kaduna state government refused to speak with them.
Jangado said, "The bandits abducted our members. Their intention is that they want to hear from the government of Kaduna state.
"The government was not responding to them because they sent a number that the government should call them.
"Because the government did not respond to them, that is why we are at the receiving end. That is the reason why they kill those people".
The spokesman of the Kaduna state police command, Mohammad Jalige could not be reached when contacted as his mobile telephone was not connecting.