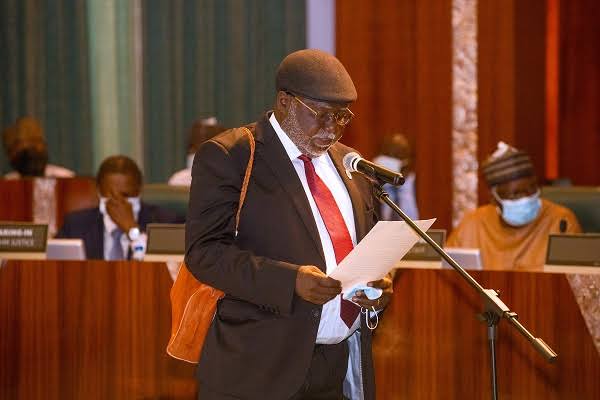 President Muhammadu Buhari, on Monday swore in a justice of the supreme court, Olukayode Ariwoola, as the acting chief justice of Nigeria (CJN).
The swearing in ceremony took place at the council chamber of the Presidential Villa in Abuja.
Ariwoola was sworn in as acting CJN following the resignation of Ibrahim Muhammad who was accused of alleged corruption.
Fourteen justices of the Supreme Court had accused the former CJN of abandoning his responsibility as the leader of the court.
Ariwoola, 63, is expected to serve in an acting capacity till further confirmation by the National Judicial Council (NJC) and the National Assembly.
The Acting CJN studied law at the University of Ife (now Obafemi Awolowo University), Osun state, where he bagged a bachelor of laws degree with honours in July 1980.
He was called to the Nigeria Bar in July 1981.
He was sworn into the bench of the Supreme Court in November 22, 2011.
.