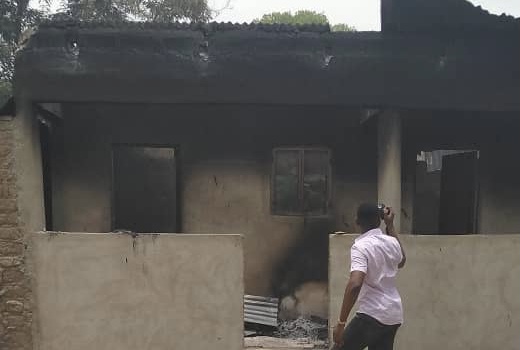 By Solomon Semaila
Suspected Boko Haram insurgents have reportdly killed 10 people in Kwapre village,  Hong Local Government Area of Adamawa state.
Speaking in an exclusive interview with AmazingTIMES, on Sunday  in Yola, the Adamawa state capital, the District Head of Kwapre, Mr. Simon Yakubu, said the blood thirsty attackers invaded the village at about 1pm on Friday and unleashed mayhem on the community.
He said the criminals operated for over three hours as they went about shooting, burning houses and places of worship, without any response from the security agencies.
"All churches and mosques in this village have been burnt by the attackers. They were killing anybody they see and shouting in all directions.
"We have so far recovered 10 dead bodies, many people are people are still missing, some are now undergoing treatment in different clinics" he said.
Yakubu said the entire village was reduced to ashes and foodstuffs were also destroyed as the attackers who came in seven Hilux painted in military colours were mistaken for Nigerian military.
The spokesman of the Adamawa state command, Mr. Mohammed Nguroje, confirmed the incident, but said he was yet to get details of the casualties.
The Executive Secretary of Adamawa State Emergency Management Agency ( ADSEMA), Dr. Mohammed Sulaiman, confirmed the incident, saying however that seven people were killed during the attack and about 5,000 people were displaced.