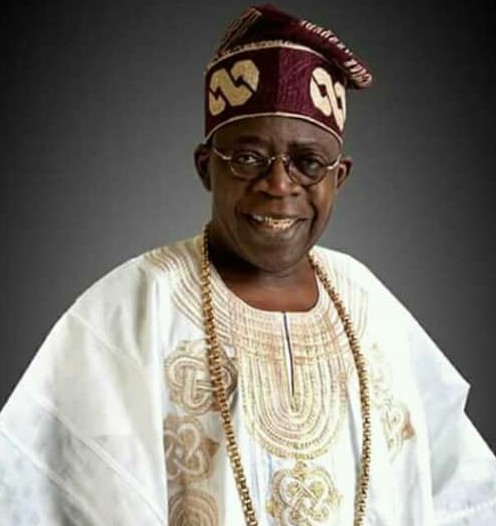 Bola Ahmed Tinubu, known and affectionately called by his close friends and associates as BAT, is a tough nut to crack. The Jagaban of Borgu kingdom in Niger State and the Asiwaju of Lagos, has faced many battles in his political life and he has bruises and scars to show as evidence. He was a titan in NADECO, the activism platform that made life ungovernable for General Sani Abacha in 1994, following the annulment by military President Ibrahim Babangida of the June 12, 1993 presidential election won by MKO Abiola.
Babangida had "stepped aside" and installed an interim government headed by business tycoon, Ernest Shonekan, in a desperate attempt to fend off wave of local and international condemnations of his annulment of Abiola's victory. But after 83 days in office, Abacha swept Shonekan aside and forcefully took over the rein of government. This development gave rise to the National Democratic Coalition, NADECO. It called on Abacha to step down and hand over to Abiola, a demand Abacha furiously threw out of the window.
Together with late Chief Abraham Adesanya, late Chief Gani Fawehinmi, late Rear Admiral Ndubuisi Kanu, Chief Olisa Agbakoba, Col. Abubakar Umar, Chief Segun Osoba and other notable Nigerians, Tinubu confronted the iron-fist rule of General Sani Abacha head-on. NADECO became a symbol of mass resistance. And they did not stop, even after Abacha died, until General Abubakar Abdulsalami in 1999, handed over to a democratically elected government of Olusegun Obasanjo, even though, a retired General, but at least now a civilian. Tinubu was a frontliner in that battle.
He easily became the governor of Lagos State that year in 1999. But in 2003, he found himself in a shark-like environment in the South West geopolitical zone of the country. Having suffered the indignity of losing his home zone in 1999, to the opposition party AD, President Obasanjo of the ruling PDP, was not ready to be disgraced twice in his domain. AD, that won all the six governorship seats in the zone in 1999, lost five of those six to the PDP.
It was only Tinubu in Lagos State that was the last and only man standing. Obasanjo had been brutal in his annihilation. But Tinubu not only withstood the General's fury of not being able to uproot him, he survived the economic hardship visited on the State when the Obasanjo's Federal Government, refused to released Lagos State's fund allocated to it from the Federation account for four years, for the most flimsy reason. He survived Obasanjo. Lagos State remained the only State in the South West up till now that the PDP had never governed since 1999. And even presently, due to Tinubu dexterity, South West is nearly back to the 1999 scenario as his party controls five out of the six States in the zone.
Since 1999, Tinubu has been steadily erecting a very powerful political architecture in the country. His 'boys' are presently everywhere. Name it, as Legislators, Governors, Ministers, and even as Vice-President. And he was extremely instrumental to even Buhari becoming President in 2015 and 2019.
Now, Tinubu, the kingmaker, wants to be the king. He wants to be President in 2023. I'm not in support or against his ambition. In any case, people like us are inconsequential when it comes to Tinubu being President or not. The one person that really matters in this situation is, President Muhammadu Buhari. And his body language, especially his recent comments, do not bode well for Tinubu. At the recent ARISE TV interview, Buhari in a passing remark, that nearly escaped attention, except to the eagle-eyed watchers and cat-eared listeners, said: "it is not for someone to sit in Lagos and decide the fate of APC". Even though, the President's handlers had tried to douse the impression that his message referred to Tinubu, the perception persist that Buhari will not reciprocate the good turn Tinubu did for him, come 2023.
I recall in 2015, when Buhari became President and Tinubu's associates were jubilant that they would dominate Buhari's government based on their perception that they were the difference in making Buhari President, because he had failed to win in three attempts until they joined. But they were jolted as their rewards were decidedly insignificant to their contribution. The politically astute Northern oligarchy informed Tinubu by their tactics that what he had been playing before 2015 was ludo. In Abuja, they play chess. To underscore this position, as the 2019 campaign approached and they knew they would again need Tinubu, they played dump, just as a chess grandmaster sometimes does by sacrificing a big piece in order to lure his opponent into a seemingly advantageous position, but which ultimately is a blind alley. The 2019 Buhari campaign team announced that Tinubu will be a co-Chairman together with Buhari in the campaign.
This must have given the Tinubu camp the comfort that they were once again indispensable to the success of Buhari. But as it eventually turned out, the announcement was a ruse, made only to massage Tinubu's ego. Not once did Tinubu play any role close to co-chairing anything, Buhari was solely and totally in charge throughout the duration of the 3-month campaign. He went to all the 36 States and FCT. He was the only Presidential candidate that visited all the 37 venues. Not even a younger and supposedly healthier Atiku Abubakar of the main opposition PDP, could do that. And Buhari dominated the campaign leaving his supposedly co-Chairman to pick up the crumbs.
Now having won his reelection and with no other election for him again, Buhari has now shed any toga of pretext. It's now brastas!. And the hawks in his government are determined to frustrate Tinubu.
Is there any fuel left in the tank of the soon-to-be septuagenarian Tinubu to fight the toughest battle of his life and achieve his ultimate ambition to become the next President of Nigeria in 2023? The next few months will tell.