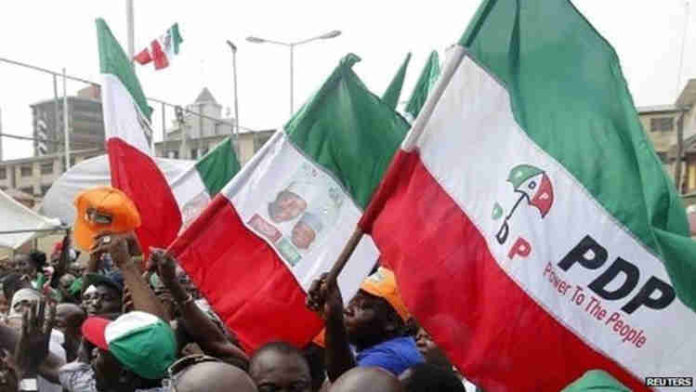 The opposition Peoples Democratic Party (PDP), has called for the immediate arrest and investigation of the Governor of the Central Bank of Nigeria (CBN), Dr Godwin Emefiele, for violating public service rules by his alleged involvement in the 2023 presidential race on the platform of the ruling All Progressives Congress (APC).
The National Publicity Secretary of the PDP, Debo Ologunagba, made the call at a press conference on Saturday in Abuja.
A coalition, comprising Rice Farmers Association had on Friday, purchased the N100 million Presidential nomination form of the All Progressives Congress (APC) Presidential for CBN governor.
However, Emefiele in a series of tweets on Twitter on Saturday, said he has not taken the decision to run for president in 2023.
He said God would direct him in his decision within the next few days.
The tweets reads: "I am humbled by the growing interest of those asking that I run for the Office of President in the 2023 general elections: I have not come to that decision.
"I note and salute the sacrifices of those farmers and patriots going as far as raising personal funds and offering me Presidential Nomination Forms: I thank them most profusely.
"However, should I answer their calls and decide to seek presidential nomination, I will use my own hard earned savings from over 35 years of banking leadership to buy my own Nomination Forms, without proxies in an open and transparent manner in full compliance with the laws and Constitution of The Federal Republic of Nigeria.
"And should I not run for elected office, I will continue to serve and sacrifice for the good people of Nigeria under the able leadership of President Muhammadu Buhari.
"This is a serious decision that requires God's Divine intervention: in the next few days The Almighty will so direct."
The PDP however, that it "received intelligence that the CBN governor is being promoted by the presidency.
"The CBN Act 2007 section 9 says the Governor and Deputy Governor shall devote the entirety of their time to the bank and shall not engage in part-time employment whether with remuneration or not."
Ologunagba maintained that "The CBN is a critical organ of the state and with this development, the CBN governor can no longer continue to operate in his current capacity."
He said, "Emefiele has become a present danger to the nation's financial sector as his presence in the race will deter investors and diminish the confidence of foreign investors in the Nigerian economy.
"We, therefore, demand the immediate arrest and investigation of Mr. Emefiele for alleged financial malfeasance and use of state resources to fund his ambition."
The Ondo state governor, Mr. Rotimi Akeredolu (SAN), a member of the APC had on Friday in a statement also called for the immediate resignation of Emefiele.